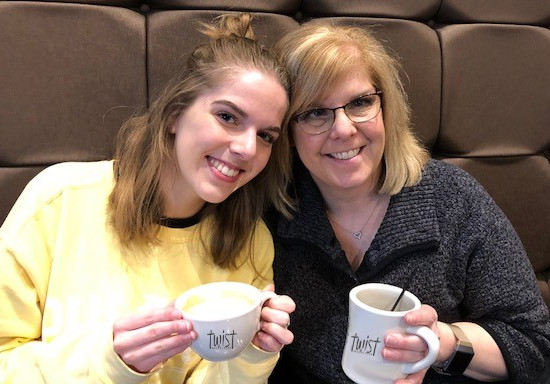 I've committed to writing blogs. In a way, it's meant to be cathartic, a way to share my thoughts, a way for you to get to know me, a way to share myself with others on a more personal level. I've always enjoyed writing. I'm definitely not the quick witted one at the party who weaves incredible stories and has everyone gathered around listening intently while they sip their Cabernet. Writing my thoughts is easier for me as I can edit, edit, edit.
So here I am, beginning a new venture, committing to adding blog posts to the website. As with many jobs, running a restaurant is time consuming and finding the time to sit and write is challenging. So, as I was discussing my first blog with my daughter, it came to me. As a freshman in college, she is very interested in learning how to run our business. This summer, while she'll still be working regular shifts throughout the cafe, she'll also be working hand in hand with me and my management team, and so as one of her first assignments, I've asked her to write our first blog. One of the joys of being a leader is being able to teach, encourage, coach, and direct others so they can fly. As a result, we learn something too and enjoy growth we never knew was missing, as I did with this essay my daughter wrote. I learned more about her inner thoughts with this essay than I did when we had the conversation about the topic of the story and her brief recount.
It's amazing what the written word can do for us as individuals, and what it can do for our relationships with those we love. It is similar to how food helps us to build memories and relationships too: Aunt Lynn's famous potatoes that were at every family gathering, Grandma's Easter Bunny Cake, Nadia's cinnamon rolls, Mrs. Shramek's chicken salad, Mom's stuffing, and the many, many other dishes we've enjoyed in our family over the years, and now have the joy of sharing many of them with our guests at the restaurant. Food is an essential thread as we weave memories into our family histories. It's at every gathering, both happy and sad. We celebrate with food when we have a wonderful event like a family BBQ or wedding, it brings us together at an office meeting, it gives us a way to connect with our children when we sit down for a meal, and it brings us comfort in times of sadness. Everyone has food memories, and that happily connects us as a society and allows us to intimately experience other cultures. Here is my daughter's story about how food has been weaved into her memories:
When I was 8, after much begging and persuasion, my mother agreed to sign me up for a kid's cooking class. Despite the fact that I had learned more about cooking in a single meal prep from my mother than I did in that week-long class, I emerged with one great new recipe.
I came home from the final day of my cooking class and asked my two older brothers if I were to make them a simple four cheese baked mac n' cheese would they be willing to try it. At the time, one of my brothers was the pickiest eaters I had ever met, he rarely ate anything other than chicken nuggets, Annie mac n' cheese, and ice cream. After a little argument and a little bugging, he finally gave in.
I simply boiled the water for the elbow pasta, added a pinch of salt, and dumped in the box. After it was finished boiling, I strained it and added a couple tablespoons of butter and milk. Next, the four cheeses: Sharp cheddar. Gouda. Gruyere. Parmesan. Sirred it all up and poured it into a glass baking dish. I spread it out evenly and sprinkled on an even layer of panko bread crumbs. Popped it into the oven at 350 for 15-20 minutes. One bite and they were hooked. The whole pan was gone within minutes. …
As the youngest, and only girl, I constantly looked for approval from my two older brothers, and when they tried the dish I had made entirely on my own and actually liked it, I gained a whole lot of confidence. They then asked me almost every day that summer for me to make them my "famous" mac n' cheese. It was neither famous nor my own recipe but it was the first time I realized how food can bring true joy to someone's life. I continued making it for them all summer long, and they would come running up from the basement, in the middle of an intense game of Madden or NHL or whatever other XBOX game they were into at the time (big deal considering this didn't even happen for mom's cooking!!). Although it may not seem like a big deal now, to receive the approval and praise from my two older brothers was monumental in my little 8 year old mind.